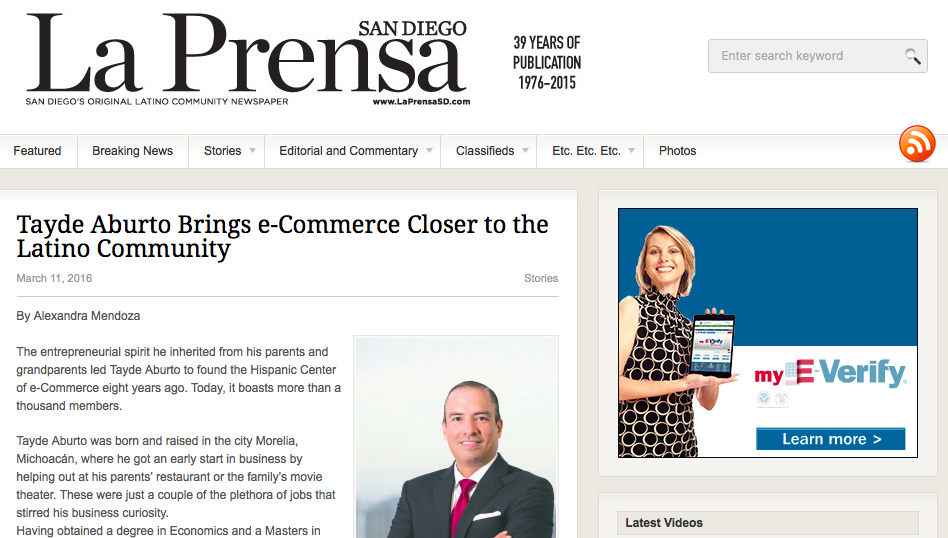 By Alexandra Mendoza
The entrepreneurial spirit he inherited from his parents and grandparents led Tayde Aburto to found the Hispanic Center of e-Commerce eight years ago. Today, it boasts more than a thousand members.
Tayde Aburto was born and raised in the city Morelia, Michoacán, where he got an early start in business by helping out at his parents' restaurant or the family's movie theater. These were just a couple of the plethora of jobs that stirred his business curiosity.
Having obtained a degree in Economics and a Masters in Marketing at Mexico's Tecnológico de Monterrey, he arrived in San Diego in 2006, where he got a job as a market analyst for Kyocera Wireless Corporation.
Two years later, after getting to know the local market, he realized that there was a digital gap between the Hispanic community and the business world. Thus was born the idea of founding a Chamber of Commerce to help Hispanic small businesses.
"At the end of the day, what we want is for these businesses to be able to grow through these tools and for them to increase their market presence," said Aburto.