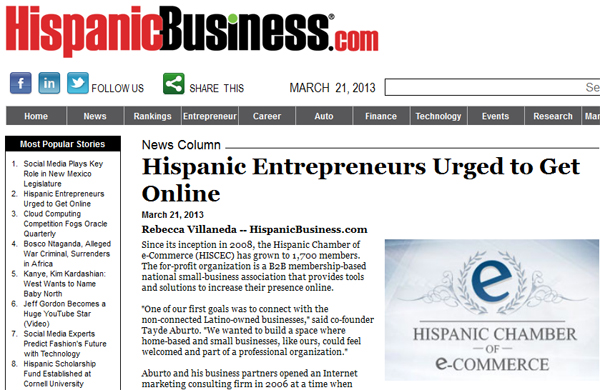 I want to share with you my interview with Rebeca Villaneda, reporter for Hispanic Business Magazine.
Since its inception in 2008, the Hispanic Chamber of e-Commerce (HISCEC) has grown to 1,700 members. The for-profit organization is a B2B membership-based national small-business association that provides tools and solutions to increase their presence online.
"One of our first goals was to connect with the non-connected Latino-owned businesses," said co-founder Tayde Aburto. "We wanted to build a space where home-based and small businesses, like ours, could feel welcomed and part of a professional organization."
Aburto and his business partners opened an Internet marketing consulting firm in 2006 at a time when e-business, especially in the Latino community, was still in its infancy. The HISCEC, based in San Diego, was formed to fill that void. Now, Aburto says, Hispanic enterprise owners are adopting technology and closely following Internet trends.
HispanicBusiness asked Aburto to speak more about the HISCEC's offerings and what members get from the organization.
HB: Do these businesses operate only online, or do they have a brick-and-mortar storefront?
Tayde Arburto: Most of HISCEC's members have a brick-and-mortar storefront. There are also a lot of e-businesses listed on HISCEC's business directory.
HB: What are advantages and disadvantages to having only online operations?
TA: First of all, a business can't afford not to have an online operation these days. The costs of not doing e-business include loss of customers to competitors with good websites and loss of potential revenue. An online operation can help a business to target new customers, including customers beyond their local market. Even if the business owner doesn't sell anything online, a website makes it easier for potential customers to find them.
An online operation can help a business owner to find better business deals. They can use the Internet to find information about products, services and suppliers. Some of HISCEC's members have been able to generate new business thanks to their listings with us. There are some listings that are ranking well for specific keywords, and in some cases HISCEC's listing is ranking better than the business' website. We put some effort at making HISCEC's business directory Google friendly.
A website can increase a business' sales by providing access to new markets; by making it easier for customers, potential customers and suppliers to look at their products and services; and by making it easier for people to buy their products. A storefront only operates during business hours, (but) a business' online store is open for business 24/7.
A lot of Latino-owned businesses fail within the first two years because of the lack of a marketing strategy or a not well-planned and executed strategy. An online operation enables a business to improve its marketing strategies. With the Internet, it's easier to summarize and analyze information about customers visiting and buying from a website. Business owners can use that information to modify their promotional strategies to maximize sales.
The disadvantages of having an online-only operation is that it could be a deal breaker (because of credibility issues).
I organized (our first) event from my apartment with no staff and very little money, but I was determined to make it happen. Besides the credibility factor, I really don't see many disadvantages of having only online operations. The advantages are greater than the disadvantages.
HB: Statistically, Hispanics aren't highly represented in the tech world. What are some things entrepreneurs can do to get more tech savvy?
TA: First of all, we need to encourage young Latinos to get Web programming, Web designer and IT degrees or specialize in areas related to e-business — careers that can help them to create or join tech startups. I'm not a Web programmer or an IT specialist, but I decided to focus on learning e-business (e-commerce and e-marketing) right after I earned my bachelor's in economics.
I strongly believe that over the next two to three years we are going to see more Latinos and Latino-owned businesses playing a key role in the Internet. There is already a trend of Latino tech startups that is going to help to build that momentum.
HB: Why should a business invest in a social media presence?
TA: We all know by now that a key component of an Internet marketing strategy is having a social media presence. It can be via the traditional social networks (Twitter, Facebook, LinkedIn), via microblogs like Tumblr, a video-sharing site (YouTube) or a picture-sharing site (Instagram or Flickr). What is important is to select the social site that it is going to offer the best ROI possible for the business.
Having a social media presence helps a business to reach a large number of people in a more spontaneous way without paying large advertising fees.
HB: What are some benefits of an online marketing strategy?
TA: Once a business has established its online presence, via a website or through the use of social media profiles, effective marketing is the key to getting the most out of the time and money they have invested. If they don't have a clear idea of the direction they are planning to take, they are going to get lost and they are going to end up spending tons of cash without seeing any results from their efforts.
Effective Internet marketing ensures that people know about their online presence, that they know what their target market needs and what they are saying about their business online, and that they use data generated online to improve their business and overall marketing strategy.
Source: http://www.hispanicbusiness.com/2013/3/19/hispanic_entrepreneurs_urged_to_get_online.htm
Visit my Google+:
Tayde Aburto
Visit my Dubalu:
Tayde Aburto