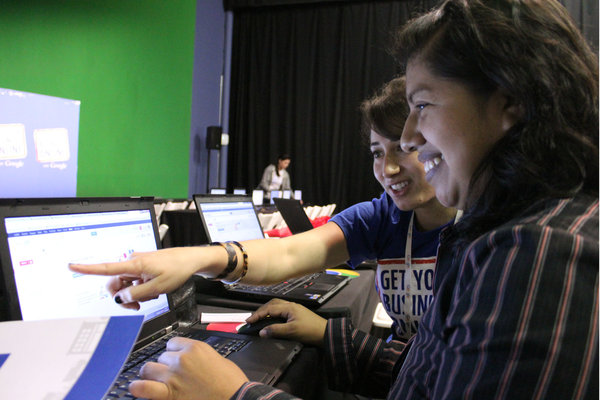 Google Inc. is expanding its push to help more small businesses get online, this time en español. The Internet search giant held a free seminar Tuesday to teach Latino business owners how to create and manage their websites and promote their businesses.
At a production studio in Los Angeles' warehouse district — transformed for the day with colorful chairs and candy jars — Google employees explained in Spanish how to register domains, set up Google Alerts and use tools such as Google Calendar and Google Docs. Among those at the seminar were handymen, travel agents and insurance brokers.
"I have had many clients ask me if I have a website," said Alejandro Gerakos, 34, a West Covina makeup artist who works for independent film studios. Gerakos, who said she didn't see the importance of being online before, hopes the website will help her draw more local referrals and make her less reliant on work that requires travel. Her contract work often sends her as far as San Diego or San Francisco.
The Los Angeles event was only the second time Google has presented the program, launched in 2011, in Spanish. A similar event was held in Miami last week. It's the latest effort the company has made in a push to increase its presence in the expanding Latino market. Read the full story here.
I got very excited when I read this story at the L.A. Times. Four years ago we had the vision to create an organization that could focus on promoting the use of the Internet as a business tool and that's how the Hispanic Chamber of E-Commerce was born. The growth of the organization has been organic, we haven't had the resources to promote HISCEC's mission and its community but it keeps growing month by month one business at a time. I'm happy to see that Google is taking the initiative to connect micro and small Latino-owned businesses. Our community needs that. There are hundreds of thousands of Latin-owned businesses that don't have a presence online but they do have great products and services to offer.
Marketing is one of the biggest challenges faced by Latino-owned small businesses so to give them the opportunity to promote their businesses online is huge. Google got it right! They know that it is vital for our economy to help Latino-owned business to have a strong presence online. About a year ago, we put together what we called the Hispanic e-Business Initiative to show the reasons why it is important to foster the adoption of Internet business tools to enhance the competitiveness of Latino-owned businesses. The more competitive Latino-owned businesses are, the bigger the impact they will have in the communities where they operate.
So big-shout out to Google and its Get Your Business Online Initiative now focused on helping Latino-owned businesses to get online. I can't wait to see what's going to happen in the next few years. It looks like one of my dreams will come true: To see the majority of the Latino-owned micro and small businesses online.