Small Business Flight School by Business Made Simple
Online Program













What Happens in Small Business Flight School?
Each month, we'll focus on a key area of your business and walk you through action steps you need to execute. It takes about 5 hours a week over a 6-month period to complete the Flight School training and action steps.
The 6 key areas of your business we'll be covering are:
• Leadership
• Sales
• Marketing
• Products
• Overhead and Operations
• Cash Flow
By the time you're done with the program, each area of your business will be prepared to fire on all cylinders, and you'll have a growth plan that works.
If you've been looking for an easy, proven growth plan you can implement quickly, you've found it.
Stop guessing at what you need to do to grow your business and use the next 6 months to become a confident business owner with more revenue and a healthy, scaling business.
How is Flight School different from a Business Made Simple membership?
The Business Made Simple membership is perfect for someone looking to implement a growth plan at their own pace without much direction or support. Flight School is for small business owners who want to accelerate their growth at a rapid, 6-month pace alongside fellow entrepreneurs with the weekly support of the Business Made Simple team.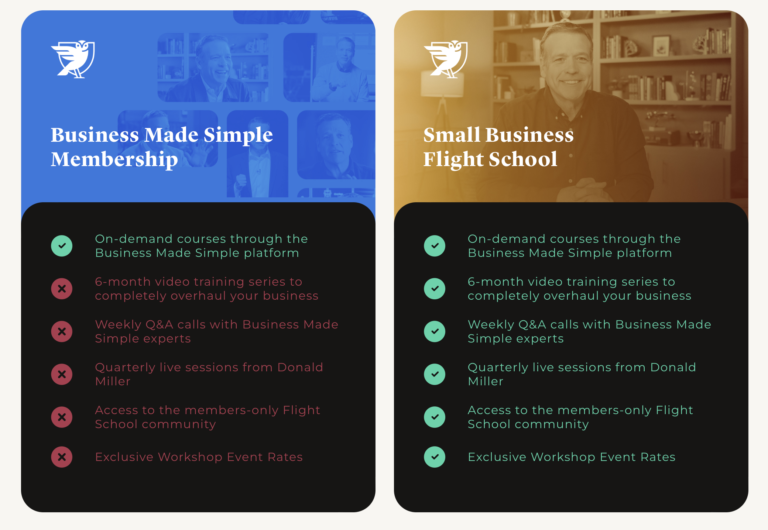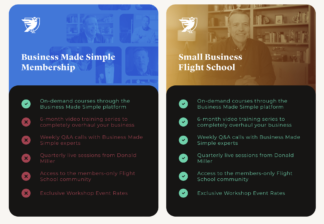 FAQs
Does Flight School work for any industry?
Yes! Flight School will work for any industry, and our weekly Q&A calls ensure you get the help you need to apply the frameworks to your specific business and industry.
How much does it cost?
Small Business Flight School is a one-time payment of $2,495. Financing is available for the Small Business Flight School; APPLY NOW. Payments over 12-60 months with zero prepayment penalties. End credit card stacking. Avoid high-interest rates. Simple financing solution that provides you with fair rates over a fixed term. All credit profiles, including those with challenged credit, can apply.
Do I have to pay the $2,499 now?
No. You don't pay the program cost of $2,499 until Business Made Simple opens the registration for the program. Register now to save your spot and be the first to get the official registration link to join the Small Business Flight School online program.
Six months is too slow (or too quick) for me. Can I go through at a different pace?
While we recommend a six-month pace, you can choose a different pace inside the platform. We'll send you email reminders based on the timeframe you choose.
I'm already a Business Made Simple member. What's the cost for me?
If you're a current Business Made Simple member, we will deduct the $275 you paid for your BMS membership from your Flight School cost.
Will I lose access to the Flight School content after 6 months?
No! Once you enroll in Flight School, you will have access to the Flight School video content and the exclusive community permanently, as long as you maintain your $275/year BMS subscription.
How will I interact with others in the Flight School community?
Enrolling in Flight School gives you exclusive lifetime* access to a VIP community. Post questions and comment on others' posts to get real-time support from other business owners committed to growing their businesses. The VIP Flight School community is designed to support you as you build your Flight Plan and grow your small business.
*As long as you maintain a yearly Business Made Simple subscription