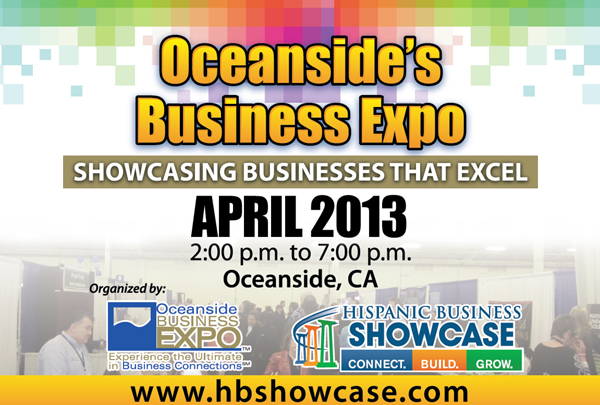 Please mark your calendar for Wednesday, April 17th to join the Oceanside Chamber of Commerce and the Hispanic Chamber of E-Commerce for a Great time of Food, Networking and Beer/Wine Sampling at the Oceanside Business Expo.
Location: Pacific Coast Business Park, 1351 Rocky Point Drive, Oceanside
Time: 2pm – 7pm
Register for Free Admission at… http://www.hbshowcase.com
Booth Space Still Available! Booth information available at link above.
Make Great Business Contacts at Oceanside's Best Networking Event of 2013
– Connect with business professionals from around the region
– Build business relationships and strategic partnerships
– Grow your business
Delicious Food and Beverages Provided by…
Beach House Winery
Belching Beaver Brewery
California Fruit Wine
Crystal Catering and Events
Famous Dave's BBQ
Hunter Steakhouse
Panca Peruvian Rotisserie Chicken
Prohibition Brewing Company
Stone Brewing Company
…and more!
(Food is Free! $10 Beer Sampling Fee)
Hope to see you there!
Follow us on Twitter at #osidebiz
Visit my Dubalu profile at Dubalu and my Google+ profile
Tayde Aburto